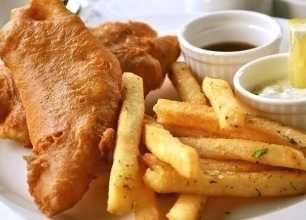 Takeaway - No Competition in Town!
$179,000 Just Sold
Busy Hinterland takeaway specialising in Fish & Chips
- Extremely well established, over 30 years
- Rent cost less than 9% of turnover
- Local loyal customer base
- Great location with street presence and ample parking
- Fully equipped commercial kitchen in very good condition
- Huge growth possibilities
- Up to 26 places for both inside and outside dining
- Ideal for 2 working owners, husband and wife team
- There are many visitors to this hinterland location

This is not your average take away. It serves classic fish & chips – the crowd pleaser – also hamburgers and other simple café style main meals such as garlic prawns.

This business has been around for more than 30 years so has a very local customer base but most amazingly, there is NO competition in town, no other fish and chips or a take away chain!

This business, like its food, is too good to miss.